EF*CK
Emoji filter / Unicode chat keyboard (also EFUCK, or EF*CK if you will rather politely, or mere EFCK for short) is a free cross-platform open-source on-screen desktop emoji keyboard, with built-in:
text-filter-based emoji picker, with customizable invocation aliases and emoji modifiers such as gender and skin tones; 🙋🏼‍♀️
Unicode text converter with many hacks, such as bold or strikethrough or Z̛͕̫͉a̟̯̔̊͠l̤ͪg̨ͥo͙̻̦ͣ text effect and many others to make your text content stand out;
meme GIF search function with hundreds of GIFs instantly available to drag and drop in the comfort of your familiar desktop environment.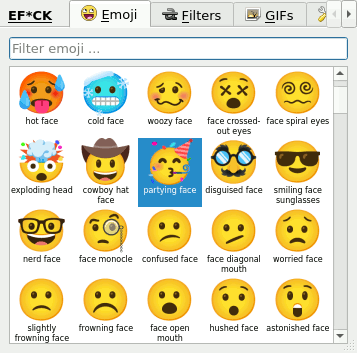 Easily extensible (Python, Qt) 🐍 with custom tabs for custom actions and launchers.
EFCK is known to work with most desktop applications, namely: web browsers and, within them, web apps like Gmail, Facebook, Messenger, Instagram, WhatsApp, Slack, GitHub, Discord, YouTube, Tinder …; standalone Electron-based desktop clients like Telegram, Discord, MS Teams, Jitsi, Zoom, Skype, mIRC …; file managers, many text editors, dialog-based desktop services, and really just any desktop widget that maintains input field keyboard focus, or, in case of GIFs, supports file drop actions.
Stop wasting literal ages waiting for the lazy web app of the day's emoji/sticker picker to load.
— Show emotion! Take back control. Join the resistance! ✊